Community Outreach
Sharing Chiropractic With Atlanta Area Businesses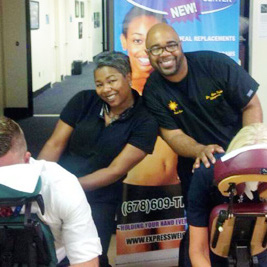 At Fidelity Health Care, we believe in community outreach and spreading the word about chiropractic care. After all, healthy employees are productive employees!
Dr. Taylor and staff often travel to visit different companies in and around Atlanta, including AirTran®, Southwest®, and Bank of America®.
We'll bring a massage chair and be ready to share our knowledge and experience about chiropractic care and health, especially as it relates to your workplace and profession.
Contact us today to schedule a time for us to speak to your organization. We look forward to meeting you and finding out how we may be able to help you!