Cold Laser Therapy in Atlanta
Effective Treatment for Pain Relief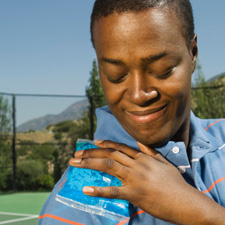 The Class IV Laser by K-Laser® is a drug-free, surgery-free solution to living a life free from pain. This healing solution is enjoying increasing popularity due to the incredible results it gives!
A broad range of conditions can benefit from this therapy, including:
Carpal tunnel syndrome
Hand or wrist pain
Hip pain
Knee pain
Low back pain
Neck pain
Plantar fasciitis
Sciatica
Shoulder pain
And more!
A Warming, Healing Experience
The laser has a light on it that feels slightly warm during treatment. It's similar to an extremely deep penetrating ultrasound. A series of treatments will be recommended based on your condition, completed in addition to chiropractic and stretching.
The benefits include tissue repair, increased vascular activity and improvement of your nerves. It helps the body rejuvenate and heal. Laser therapy is a high-quality health solution that is also made affordable to everyone at Fidelity Health Care.
We'll validate your parking and offer convenient Saturday appointments. You can even use your insurance coverage!
Get in touch with Fidelity Health Care today for healing cold laser therapy in Atlanta.
Cold Laser Therapy Atlanta GA | (404) 815-1505