Atlanta Chiropractor Gives Five-Star Care
Start Your Healing at Fidelity Health Care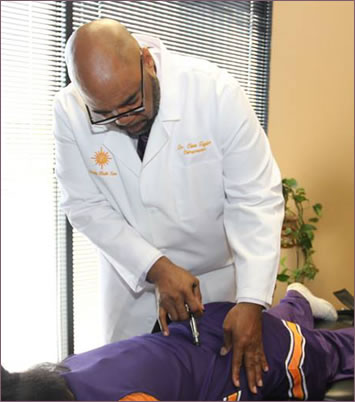 The highest quality of health care is offered at Fidelity Health Care, with affordable prices that make care accessible for everyone in our community.
Atlanta chiropractor Dr. Cleve Taylor is an approachable, welcoming health expert that puts you at ease from the moment you walk into our positive, warm environment.
Enjoy Optimum Health
We like to say that our patients are our family. You'll be treated like one, too, provided with the latest advances in health care. We may use different solutions to tailor our care to your condition:
Exercises and stretches
Physiological therapies
We'll even offer you lifestyle advice about nutrition, giving a full-body approach to improving your health. Our thorough examination process examines you from head to toe because we understand that a problem in your back might have a root cause that lies elsewhere in the body, such as the hips or feet.
Live Without Pain and Discomfort
In Dr. Taylor's trusted hands, a variety of different problems can be helped, from auto accidents to sports injuries, to individuals of all ages seeking greater well-being. We practice what we preach, too, and only recommend methods to our patients that we've already tried out.
Dr. Taylor, is extensively educated in providing superb health care and makes every effort to get you the results you seek. Find out why we were voted the best chiropractor in Atlanta for two consecutive years.
Don't wait – get in touch with your Atlanta chiropractor in Buckhead and Midtown Atlanta today to get started on your journey!
Chiropractor Atlanta GA | (404) 815-1505